Key Features
Four-light LED battery status indicator
Easily charge the Power Pack with the included 6″ Micro USB cable and port
Simultaneously charge 2 smartphones with the 2 USB ports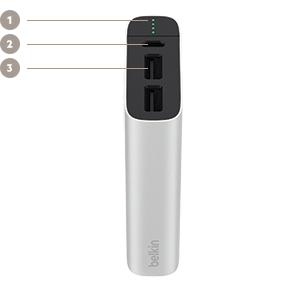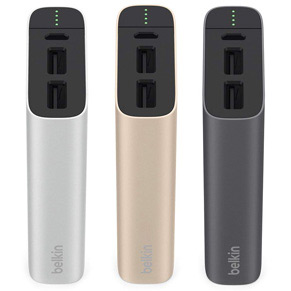 Charge Anywhere
The MIXIT↑ Metallic Power Pack 6600 lets you keep your devices charged no matter where you are, just plug in your device for immediate automatic charging. 2 USB ports mean you can simultaneously charge 2 smartphones, and 3.4A total power ensures optimal charging for tablets. Charge your battery pack before you leave the house, and take the power to charge smartphones, tablets or any USB-enabled device wherever you go.
Made for:
Smartphones
Tablets
Wearables
Action Cameras
USB-enabled devices
Smart Power
Enable auto charging simply by plugging your device in to the MIXIT↑™ Metallic Power Pack 6600. Fully charged on arrival, it automatically detects your device and gets straight to work on powering it up. Recharging the Power Pack itself is also easy, just plug it in using the 6″ Micro USB Cable provided.
Great at Multi-Tasking
The MIXIT↑ Metallic Power Pack 6600 ensures that you'll always have an extra charge within reach. And it has two USB ports, which means you can charge a second device, such as a friend's smartphone, at the same time that you charge yours. With its compact and lightweight design, it's ideal for travel and easily slips into any handbag or backpack.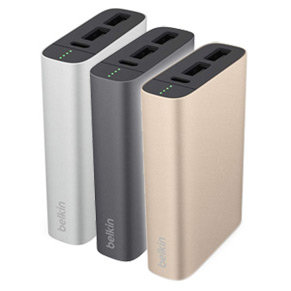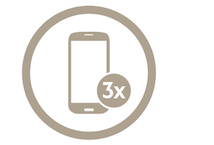 A Power Fortress
A huge battery capacity of 6600 mAh means a huge amount of power that can be stored for days at a time. Charge your tablet at optimum speed with 3.4A power output, or recharge your smartphone up to 3 times without refueling the Power Pack.
Belkin Connected Equipment Warranty
The MIXIT↑ Metallic Power Pack 6600 is protected by a Belkin Connected Equipment Warranty. If your device is damaged by an electrical charge while properly connected to the charger, Belkin will repair or replace it up to a value of $2,500.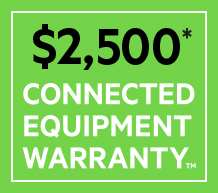 Mix & Match
This Power Pack is part of the MIXIT↑ Collection, which includes cables, chargers, audio and power accessories, so you can mix and match with other MIXIT↑ products to create your favorite color combinations.
Universal Compatibility
Compatibility with any device that charges via USB cable, means tablets, smartphones, wearables, and other USB devices are all invited to power up with the Power Pack 6600.
At a Glance:
2 USB ports (3.4A shared)
2.4A input for 40% faster charging
6600 mAh battery
Automatic Charging
LED indicator
Universal compatibility (any USB-enabled device)
$2,500 Connected Equipment Warranty
Package Includes:
MIXIT↑ Metallic Power Pack 6600
6″ Micro-USB cable